Class Schedule
Monday
10:30 am - 12:00 am
Mixed ability inc beginners
Elaine
5:45 pm - 7:15 pm
Beginners
Andrew
7:30 pm - 9:00 pm
MIXED ABILITY- Strictly No Beginners
Andrew
Tuesday
10:30 am - 12:30 pm
Intermediate level 1
Jayne
1:02 pm - 2:30 pm
Beginners
Andrew
5:45 pm - 7:15 pm
Beginners
Andrew
7:30 pm - 9:00 pm
MIXED ABILITY - Strictly no beginners
Jayne
Wednesday
10:30 am - 12:00 pm
Beginners
Andrew
2:00 pm - 4:00 pm
ADVANCED - Teachers Only
Jayne
5:45 pm - 7:15 pm
Mixed ability ( inc. beginners)
Jayne
7:30 pm - 9:30 pm
Professional development for Iyengar teachers & trainees . Last weds of the month
Jayne
Thursday
1:00 pm - 2:30 pm
Beginners - class full
Jayne
4:45 pm - 6:15 pm
Medical class - next course Autumn 2019
Jayne & Assistants
6:30 pm - 8:30 pm
Intermediate level 2
Jayne
Friday
10:00 am - 11:30 am
Mixed Ability (term time only)
Natalie
5:15 pm - 6:15 pm
Foundation course. Next 10 wk set starts 20.9. Pre-book only
Clare
6:30 pm - 8:30 pm
Mixed Ability (including Beginners)
Clare
Saturday
10:30 am - 12:00 pm
MIXED ABILITY - Strictly no beginners
Andrew
Sunday
10:00 am - 12:00 pm
Intermediate level 1
Andrew
5:00 pm - 6:30 pm
Beginners
Andrew

Price List from September 2019
Beginner Level and Mixed Ability Classes
£10 drop in or £85 consecutive set of ten
2 hour Classes
£12 drop in
Medical Classes
£150 for a 10 week course
Pre-book only.
Teachers Advanced Class
£12
Teachers monthly workshop
£15
7.30 - last weds of month

Events
PROFESSIONAL DEVELOPMENT DAY FOR TEACHERS
Start Date:

11/01/2020

End Date:

11/01/2020

Start Time:

1:00 pm

Finish Time:

6:30 pm

Cost:

£35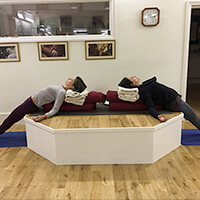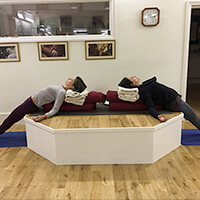 This day is for certified Iyengar teachers and the theme is how to teach pregnant students safely. The Moderator for the day is Diane Coats from North East IYI. Please book your place well in advance either directly at IYIOB or online. Please contact us for bank details and supply your iy(UK) membership no.
NOTE ON EVENTS;—Jayne Orton is teaching many international intensives and workshops throughout Europe and North America in 2020/21 . If you would like a full list of these please contact us by email on admin@iyengaryoga.uk.com