Book a class
Click "Book Now" to book a class.
The deadline for booking any class is 8am on the day of your chosen class.
Please declare any medical conditions with your teacher prior to booking any class.

Price List from September 2021
Beginner Level and Mixed Ability Classes
£10 Live or Online (Online with Jayne's classes only)
Pre-book only
2 hour Classes
£12 Live or Online (Online with Jayne only)
Pre-book only
Medical Classes
£120 for 6 wk course In studio only
Pre-book only.
Teachers Advanced Class
£15 Live or Online
Pre-book only
Foundation Course
£60 for 6 weeks or £45 for 1 hour class
Pre-book only
Private Tuition in person or online
£50 per hour
pre-book only

Events
FOUNDATION COURSE - Friday evening from November
Start Date: 12/11/2021
End Date: 17/12/2021
Start Time: 5:15 pm
Finish Time: 6:15 pm
Cost: £45 for the 6 week course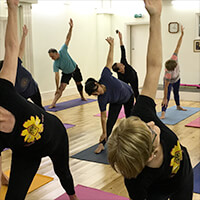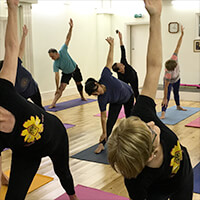 A complete introduction to Iyengar yoga for those with no experience of this method. Over a 6 week course learn all the basics and background to our system of yoga.
This course is in the Studio at the Institute . To book a place contact clarepreston@virginmedia.com
3 AUTUMN/WINTER WORKSHOPS FOR TEACHERS WITH JAYNE ORTON
Start Date: 23/10/2021
End Date: 11/12/2021
Start Time: 1:00 pm
Finish Time: 4:00 pm
Cost: £20 per day or £50 for all 3 Workshops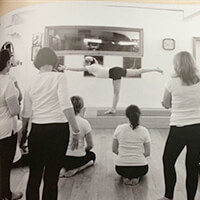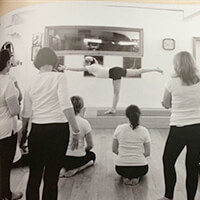 3 Dates for Autumn/Winter 2021 (In Studio places and online)
23rd October
20th November
11th December
These 3 workshops are professional development for all existing teachers at either Level 1 or Level 2 who wish to work on intense practice of the Asanas and also how to teach them safely to your own students who are already familiar with the level 1 asanas. These places in studio and online are for those teachers who have worked regularly with Jayne Orton over the last few years
Pre-booking essential as studio & online places will be limited.
For payment details please contact info@iyengaryoga.uk.com
PROFESSIONAL DEVELOPMENT DAY for both Teachers and Trainee Teachers
Start Date: 08/01/2022
End Date: 08/01/2022
Start Time: 2:00 pm
Finish Time: 5:00 pm
Cost: £25.00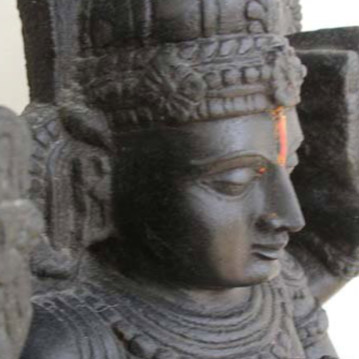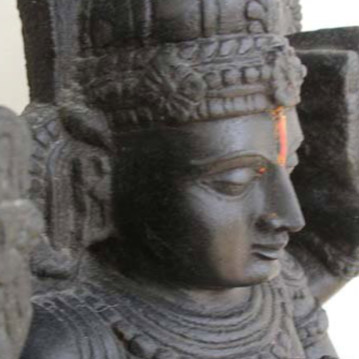 "EMBRACING THE MENOPAUSE" with Advanced level Teacher Jayne Orton
This professional development day is part of IYUK 'specialised training' and looks at how we can adapt our practice in the Menopausal phase of life and also learn how to help our students in embracing a mid-life yoga practice and dealing with issues that come up in classes. We also encourage all participants to share their own experience of dealing with the menopause.
This workshop is open to both male & female teachers and trainees and will be face to face here at the Institute in Birmingham but will also be streamed live via Zoom if you wish to attend this way. If you attend the in studio workshop it will be followed by a social/get together for all teachers & trainees including drinks and snacks.
Please email info@iyengaryoga.uk.com for details on how to book and stating whether you would like a limited studio place or an online place.
Medical Class - Six week course
Start Date: 29/01/2022
End Date: 05/03/2022
Start Time: 4:00 pm
Finish Time: 5:30 pm
Cost: £120 for 6 week block - pre-book only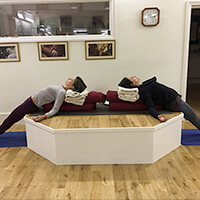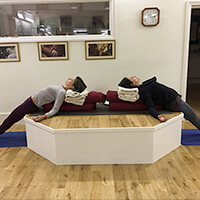 A 6 week block of classes for those with serious medical issues which cannot be addressed in regular classes such as serious back, neck, shoulder problems, Long Covid, heart problems. A free zoom/ telephone consultation will be required with Jayne Orton before booking for the class. Please email info@iyengaryoga.uk.com