Class Schedule
Monday
10:30 am - 12:00 am
Mixed ability inc beginners
Elaine
1:00 pm - 2:00 pm
Beginners -drop-in (£6.50 per class)
Hannah
5:45 pm - 7:15 pm
Beginners
Andrew
7:30 pm - 9:00 pm
MIXED ABILITY- Strictly No Beginners
Andrew
Tuesday
10:30 am - 12:30 pm
INTERMEDIATE 1
Jayne
1:00 pm - 2:30 pm
Beginners
Andrew
5:45 pm - 7:15 pm
Beginners
Andrew
7:30 pm - 9:00 pm
MIXED ABILITY - Strictly no beginners
Jayne
Wednesday
10:30 am - 12:00 pm
Beginners
Andrew
5:45 pm - 7:15 pm
Beginners - CLASS FULL
Jayne
7:30 pm - 9:30 pm
ADVANCED CLASS - teachers only. Last wk of month Therapy Workshop
Jayne
Thursday
1:00 pm - 2:30 pm
Beginners - CLASS FULL
Jayne
4:45 pm - 6:15 pm
MEDICAL CLASS - FULL
Jayne & Assistants
6:30 pm - 8:30 pm
INTERMEDIATE 2 - last wk of month Patanjali study group
Jayne
Friday
10:00 am - 11:30 am
Mixed Ability (term time only)
Natalie
5:15 pm - 6:15 pm
Foundation course 10 wks starts 25.1.19 pre-book only
Clare
6:30 pm - 8:00 pm
Mixed Ability (including Beginners)
Clare
Saturday
10:30 am - 12:00 pm
MIXED ABILITY - Strictly no beginners
Andrew
Sunday
10:00 am - 12:00 pm
Intermediate level 1
Andrew
5:00 pm - 6:30 pm
Beginners
Andrew

Price List 2019
Beginner Level and Mixed Ability Classes
£9 drop in or £75 for a consecutive set of 10
2 hour Classes
£12 drop in
Medical Classes
£150 for a 10 week course
Pre-book only.
Teachers Advanced Class
£12

Events
NEXT Patanjali Yoga Sutras Study Group
Start Date:

28/02/2019

End Date:

28/02/2019

Start Time:

6:30 pm

Finish Time:

8:30 pm

Cost:

£12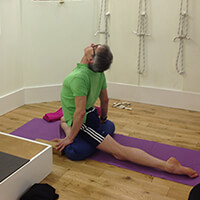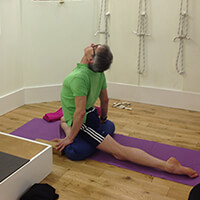 Pranayama/restorative class followed by a study of the Yoga Sutras of Patanjali.
These are once monthly sessions held  the last Thursday of every month for all Intermediate students of Iyengar Yoga  only where we will study the text and meaning of the Sutras and their relevance to daily life. Led by Jayne Orton
Followed by tea & biscuits to meet your fellow yogis
ANNUAL EASTER INTENSIVE
Start Date:

19/04/2019

End Date:

22/04/2019

Start Time:

6:00 pm

Finish Time:

1:00 pm

Cost:

COURSE NOW FULL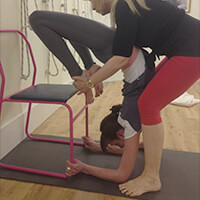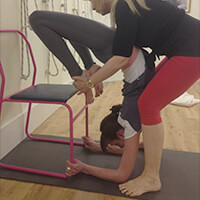 Intermediate intensive taught by Jayne Orton includes introductory to senior  Asanas,  and in-depth Pranayama both incorporating Patanjali philosophy .   The course is suitable for all students of Iyengar Yoga except complete beginners .
6-8.30pm Good Friday
10-4pm Saturday & Sunday
10-1pm Easter Monday
cost includes refreshments & snacks
bookings for whole course only   to Jayne Orton by 1st April.  Please contact us for bank details.
NB:  FOR A COMPLETE LIST  OF JAYNE ORTON'S 2019/2020 UK & International workshops /Training days & Therapy workshops :PLEASE EMAIL:
admin@iyengaryoga.uk.com
Training for Iyengar Yoga Therapists and their students
Start Date:

23/03/2019

End Date:

23/03/2019

Start Time:

1:00 pm

Finish Time:

7:00 pm

Cost:

£45 ( proceeds to Breast Cancer Haven)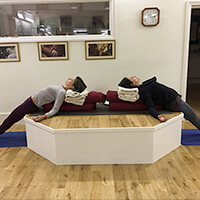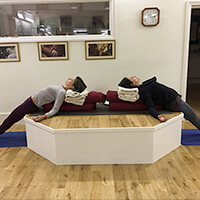 Training day for Iyengar Yoga Therapists  and assistants in medical classes with Intermediate junior 3 or above certification plus Pune visits.
The theme for this special workshop organised by the Iyengar Yoga Association will be  focussed on teaching students with breast cancer and learning different programmes for during a d post treatment.
Any teachers that book for the day may also bring with them any students undergoing treatment at the moment or recovering from breast cancer.
the day will be led  by Jayne Orton. Also a representative from Breast Cancer Haven will also attend part of the day as Iyengar Yoga exclusively  is taught at their clinics throughout the UK including here in Birmingham
ASANA PRACTICE & SUTRA STUDY with Jayne Orton & Pro. Edwin Bryant
Start Date:

17/05/2019

End Date:

19/05/2019

Start Time:

12:00 pm

Finish Time:

4:00 pm

Cost:

£150 payable to Ganesh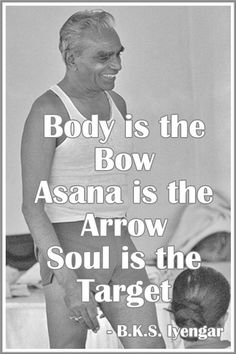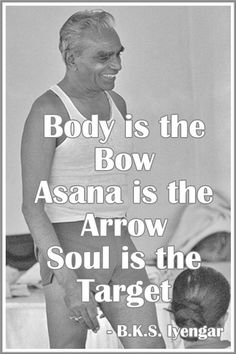 A weekend of Asana practice with Jayne Orton and 'An Introduction to the study of the Yoga Sutras of  Patanjali' with the esteemed Author and Professor Edwin Bryant
Suitable for intermediate levels of students and teachers of Iyengar Yoga
Detailed timetable ;
FRIDAY
12-2pm Asanas with Jayne
2.30-5.30 Sutras with Edwin
……………………………
SATURDAY
9-11.30 Asanas
12-3,30 Sutras
……………………………,
SUNDAY
9-11 Asanas
12-3.30 Sutras
………………………….
INTERMEDIATE TRAINING INTENSIVE FOR TEACHERS
Start Date:

02/08/2019

End Date:

08/08/2019

Start Time:

1:00 pm

Finish Time:

1:00 pm

Cost:

£300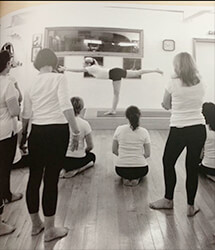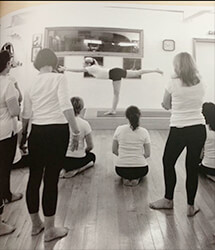 Intermediate level intensive with Jayne Orton – for teachers including introductory level teachers who have held certification for a minimum of 2 years. For full timetable and booking details please email info@iyengaryoga.uk.com
FOR DETAILS OF AIR B&B VERY NEAR INSTITUTE WITH LOCAL  IYENGAR YOGA STUDENT – PLEASE CONTACT US