Book a class
Click "Book Now" to book a class.
The deadline for booking any class is 8am on the day of your chosen class.
Please declare any medical conditions with your teacher prior to booking any class.

Price List from January 2023
Beginner Level and Mixed Ability Classes
£12 Live or Online (Online with Jayne's classes only)
Pre-book only
2 hour intermediate Classes
£14 Live or Online (Online with Jayne only)
Pre-book only
Medical Classes
£75 for 5 week course or £20 weekly
Pre-book only
Teachers Advanced Class
£18 Live or Online
Pre-book only
Foundation Course
£65 for 6 weeks or £45 for 1 hour class
Pre-book only
Private Tuition in person or online
£60 per class
pre-book only and payment non-refundable if cancelled less than 24 hours before.

Events
'YOGA KURUNTA' a Summer weekend of rope workshops with Jayne & Andrew !!
Start Date: 22/07/2023
End Date: 23/07/2023
Start Time: 1:15 pm
Finish Time: 4:15 pm
Cost: £30 each Workshop per day or £50 for the weekend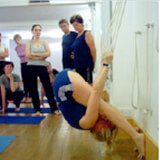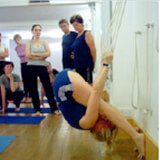 Jayne Orton & Andrew Hall, Directors of the Institute teach 2 exciting pm workshops on both Sat 22nd and Sun 23rd July.(1.15 -4.15pm). Both workshops will include the Yoga Kurunta which is a method of performing a variety of asanas (poses)to enable students to attain accuracy, agility, freedom and balance whilst using the specially designed rope wall – as taught originally by BKS Iyengar. Jayne will give a brief talk at the beginning of each workshop on the benefits, hints & cautions of the ropework. These 2 workshops can be taken separately or as a weekend. Places are open to all students and teachers of Iyengar yoga – except complete beginners. Tea, coffee & snacks will be served following each workshop. To book a place please email info@iyengaryoga.uk.com to confirm you would like a place and send your payment to:
Ganesh
Sort Code 09=06-66
Account no: 41705201
SUMMER INTENSIVE WITH JAYNE ORTON -FULLY BOOKED
Start Date: 03/08/2023
End Date: 07/08/2023
Start Time: 3:30 pm
Finish Time: 3:00 pm
Cost: NOW FULL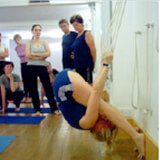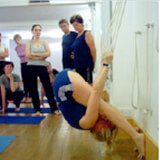 Intensive course for Iyengar teachers & very keen students!
Timetable
Thursday; 3rd August 3.30-5pm Restorative and pranayama class
break for tea/biscuits
6.30-8.30pm – Asana class (general level)
————————————————————-
Friday; 4th August 9.30 – 12noon – Asana Class (level 1 Asanas)
12-1pm break for tea and snacks
1-3pm Restorative and Pranayama
————————————————————-
Saturday; 5th August 9.30-12 noon – Asana Class(level 2 Asanas)
12-1pm tea and snacks
1-3pm Talk: The Art of Teaching plus Pranayama practice
————————————————————-
Sunday 6th August 9.30-12 noon – Asana Class (level 3 Asanas)
12-1pm Indian snacks
1-3pm Talk Yoga diet and the digestive system plus pranayama practice
————————————————————–
Monday 7th August 9.30-12noon Asana Class (levels 3 & 4 Asanas)
12-1pm tea and snacks
1-3pm Question & Answer session plus Pranayama
To book a place please send full payment to :
Jayne Orton Yoga Ltd.
Sort code 20-08-64
Account no: 83532151
For Foreign students:
Swift Bic: GB31 BUKB 2008 6483 5321 51
IBAN: GB31 BUKB 2008 6483 5321 51
————————————————————-
Exchange of Learning (PD Day) for Iyengar Teachers and Trainees led by Jayne Orton
Start Date: 06/01/2024
End Date: 06/01/2024
Start Time: 1:00 pm
Finish Time: 7:00 pm
Cost: £30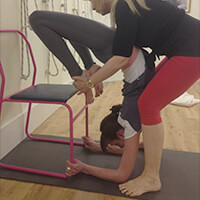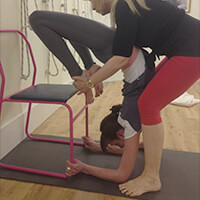 IYUK Exchange of Learning Day (previously PD Days) for all certified Iyengar Yoga Teachers and Trainees.
"Equanimity cannot happen without the techniques of alignment in body, senses, mind, intelligence and self. One can develop this art of adjustment in asana which turns into auspicious action"
The Theme will be on 'the Art of Adjustment' which is a practical workshop followed by a second session on Equity, Diversity and Inclusion.
Following this event at 7pm (if you wish to stay) we will have a social event for all attendees showing a film and having some Indian snacks.
To book your place please email us and then send payment to:
Ganesh
Sort Code 09-06-66, Account no: 41705201