Class Schedule
Monday
10:30 am - 12:00 am
Mixed ability level 1 & 2 beginners)
Elaine
12:30 pm - 1:30 pm
Foundation course. Next 10 wk course starts 22nd January. Pre-book only
Elaine
5:45 pm - 7:15 pm
Beginners
Andrew
7:30 pm - 9:00 pm
Mixed Ability
Andrew
Tuesday
10:30 am - 12:30 pm
Intermediate level 1
Jayne
1:00 pm - 2:30 pm
Beginners
Andrew
5:45 pm - 7:15 pm
Beginners
Andrew
7:30 pm - 9:00 pm
Mixed Ability
Jayne
Wednesday
10:30 am - 12:00 pm
Beginners
Andrew
5:45 pm - 7:15 pm
beginners (CLASS FULL)
Jayne
7:30 pm - 9:30 pm
Teachers Class - Advanced Level
Jayne
Thursday
1:00 pm - 2:30 pm
Beginners
Jayne
4:45 pm - 6:15 pm
MEDICAL CLASS next 10 wk course starts 25th Jan. Prebook only
Jayne & Assistants
6:30 pm - 8:30 pm
Intermediate level 2
Jayne
Friday
10:00 am - 11:30 am
Mixed Ability (term time only)
Natalie
5:15 pm - 6:15 pm
foundation course. Next 10 week course starts 26th January .pre-book only
Clare
6:30 pm - 8:00 pm
Mixed Ability (including Beginners)
Clare
Saturday
10:30 am - 12:00 pm
Mixed Ability
Andrew
Sunday
10:00 am - 12:00 pm
Intermediate level 1
Andrew
5:00 pm - 6:30 pm
Beginners
Andrew

Price List 2017-2018
Beginner Level and Mixed Ability Classes
£9 drop in or £75 for a consecutive set of 10
2 hour Classes
£10.00 drop in
Medical Classes
£150 for a 10 week course
Pre-book only.
Teachers Advanced Class
£12

Events
Easter Intensive Course with Jayne Orton
Start Date:

30/03/2018

End Date:

02/04/2018

Start Time:

6:00 pm

Finish Time:

12:00 pm

Cost:

COURSE NOW FULLY BOOKED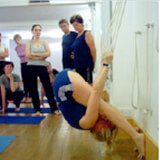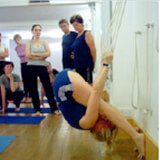 intensive course for existing students/teachers of Iyengar Yoga. Includes Asana, Pranayama & Patanjali Philosophy 
Friday 6-8pm
Sat. 9-2.30pm
Sun. 9-2.30pm
Mon. 9-12noon
BOOKING EVENTS AT IYIOB
All courses and special yoga days are for those students/teachers committed to the teachings of B.K.S. Iyengar .     To book on an Intensive/yoga day/ PD day ;-
Please send a cheque payable to Ganesh or email us to organise a bank transfer.
Special notifications
1.If you  are an Iyengar  student/ Teacher & would like a complete list of Jayne's Workshops/intensives outside of the Institute in UK & overseas during 2018/19 please contact admin@iyengaryoga.uk.com
2. Recommended accommodation near the Institute is :
the Best Western Westley Arms Hotel, or
Atholl Lodge Hotel or
The Oxford B&B or
Air B&B – we recomend Lisa McCorrie – Tel:07769-654210
ASANAS AND PHILOSOPHY INTENSIVE WITH JAYNE ORTON & PROF. EDWIN BRYANT
Start Date:

25/05/2018

End Date:

27/05/2017

Start Time:

12:00 pm

Finish Time:

4:30 pm

Cost:

£150 payable to Ganesh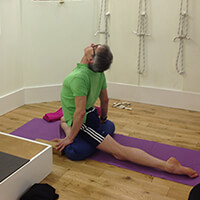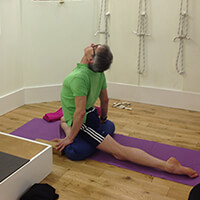 for students and teachers who have an interest to study the Yoga Sutras and the  Bhagavad Gita with eminent author/professior Edwin Bryant. Some familiarity with the texts is preferable. Each day with will start with a 2 hour class with Jayne and after a lunch break with light refresments the study will commence. For further details and ful timetable please email jayne@iyengaryoga.uk.com
Cost Is  £150 payable to GANESH by cheque/cash or bank transfer.
Timtable is 12-5.30pm friday
9-3.30pm saturday
9-3pm sunday
INTERMEDIATE TEACHER TRAINING INTENSIVE WEEK FOR TEACHERS
Start Date:

03/08/2018

End Date:

09/08/2018

Start Time:

1:00 pm

Finish Time:

1:00 pm

Cost:

£300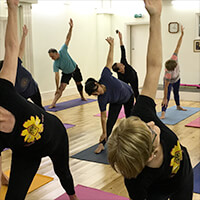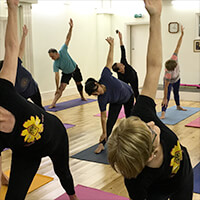 a Week long intensive for Introductory teachers with at least 2 years regular teaching experience or any Junior Level Teacher who have studied regularly with Jayne. Full timetable on request .
£50 deposit required.