Class Schedule
Monday
10:30 am - 12:00 am
Mixed ability inc beginners
Elaine
5:45 pm - 7:15 pm
Beginners
Andrew
7:30 pm - 9:00 pm
MIXED ABILITY- Strictly No Beginners
Andrew
Tuesday
10:30 am - 12:30 pm
Intermediate
Jayne
1:00 pm - 2:30 pm
Beginners
Andrew
5:45 pm - 7:15 pm
Beginners
Andrew
7:30 pm - 9:00 pm
Mixed ability
Jayne
Wednesday
10:30 am - 12:00 pm
Beginners
Andrew
2:00 pm - 4:00 pm
ADVANCED - Teachers only
Jayne
5:45 pm - 7:15 pm
Mixed ability inc. beginners
Jayne
7:30 pm - 9:30 pm
Professional development for Iyengar teachers & trainees . Last weds of the month
Jayne
Thursday
1:00 pm - 2:30 pm
Beginners
Jayne
6:30 pm - 8:30 pm
Intermediate + beyond for students & trainee teachers
Jayne
Friday
10:00 am - 11:30 am
Mixed Ability (term time only)
Natalie
5:15 pm - 6:15 pm
Foundation course. Next 10 week set starts 24.1.20. Pre-book only
Clare
6:30 pm - 8:00 pm
Mixed Ability (including Beginners)
Clare
Saturday
10:30 am - 12:00 pm
MIXED ABILITY - Strictly no beginners
Andrew
Sunday
10:00 am - 12:00 pm
Intermediate
Andrew
5:00 pm - 6:30 pm
Beginners
Andrew

Price List from September 2019
Beginner Level and Mixed Ability Classes
£10 drop in or £85 consecutive set of ten
2 hour Classes
£12 drop in
Medical Classes
£150 for a 10 week course
Pre-book only.
Teachers Advanced Class
£12
Teachers monthly workshop
£15
7.30 - last weds of month

Events
EASTER INTENSIVE COURSE taught by Jayne Orton
Start Date: 10/04/2020
End Date: 13/04/2020
Start Time: 6:00 pm
Finish Time: 12:00 pm
Cost: £180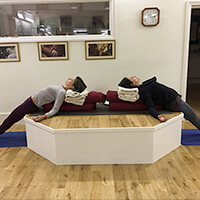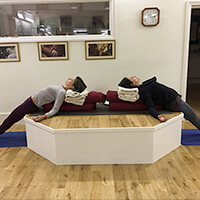 This intensive is Intermediate level and is for both students and teachers of Iyengar Yoga. The weekend includes asanas, pranayama & patanjali study. Light snacks & drinks also included
Timetable;
Friday 6-9pm
Saturday & Sunday 10-4-pm
Monday 9-12 noon
Please book in advance no later than 1st April. Please contact info@iyengaryoga.uk.com to receive bank details for booking and confirmation of your place.
NOTE ON JAYNE'S WEEKENDS & INTENSIVES OUTSIDE OF IYIOB
JAYNE IS TEACHING MANY INTENSIVES AND TRAINING WEEKS DURING 2020/21 IN EUROPE & NORTH AMERICA. IF YOU WOULD LIKE A FULL LIST OF THESE DATES AND DETAILS OF BOOKING PLUS WHO TO CONTACT PLEASE EMAIL ; admin@iyengaryoga.uk.com and request Jayne's Workshop List 2020/21