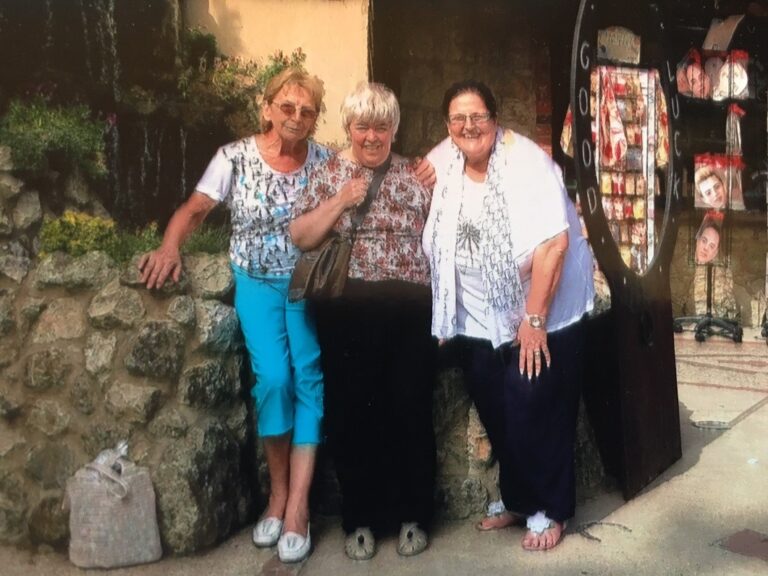 Kay's story
I remember the first time I went to Yoga class, it was an effort and I also wasn't too sure what to expect. Apart from having osteoarthritis in both knees and one hip, which meant using 2 full elbow crutches wherever I needed to walk, I was very overweight and suffered with asthma. Using the crutches also made my shoulders sore and I was not able to stand up straight.
It's now more than 2 years since I started coming to class on a Tuesday and I know that I have made considerable progress by following the instructions given by Clare and working hard at the various poses and proceeding with Courage and Caution – wise instructions (from Guruji) for us all! I also need to remember there is always next week to try hard again!
I enjoy working hard and achieving an encouraging result, for my own satisfaction and can now look back and see how I have progressed.
I enjoy yoga and it has helped me to breathe and move in a normal way along with my considerable weight loss (Kay has lost 7 stone with Slimmers World).
I would like to thank Clare for her dedicated teaching and personal help in order for me to achieve wonderful results. Many thanks to my good friend Barbara for her support and help with lifts to the church hall and home again.
I would be so happy to think that my journey might inspire others to have the courage to try yoga too.
Clare's memories
I know Guruji said that if you just do a Beginners class week in and week out, you will still transform and enjoy the benefits; and Kay evidences that – the transformation is stunning – when she last went to the nurse for her asthma check, her peak flow was so good that the nurse rushed off to get the GP and check she wasn't mistaken!
Kay is a diligent student, she arrives before class to do Viparita Korani with her legs in belts for 10 mins (this is one of the poses and adaptations that Jayne has taught me and Kay). She does short practices at home of poses like AMS and Baddaguliasana, as they give her relief. She does exactly what I ask her to and works really hard and as Guruji says she attempts everything with courage and caution.
Kay accepted from the start that we would move slowly – I used to say "there's always next week" – the first few weeks she mainly sat on the chair with a few standing poses with chair support. What she loved the most was the Savasana on the chair – I propped her up so she could start to open her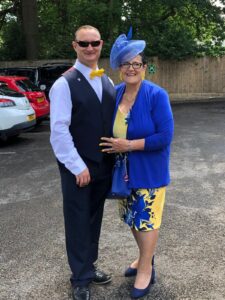 chest.
I would also like to acknowledge the support she's had from her best friend Barbara who came every week, not cos she loves it, but to support Kay and drive her home; because despite all of the challenges Kay had, she got herself to the bus and to the church hall where I teach a one-hour beginners class every Tuesday. She didn't do phone or email yoga – she turned up and turns up still every week, practices and gets on with it. As a result of her effort, Guruji's method and Jayne's teaching, she has transformed her life.
As well as yoga Kay now does swimming, Tai Chi and line dancing – the "after" pictures are of her and her husband and best friend, dressed up and ready to go to Ascot. She's also been on a weekend away line dancing all weekend.